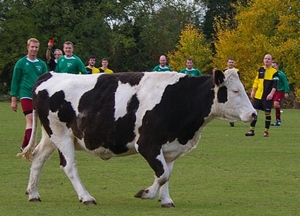 A COW was given a red card by a startled referee after it invaded the pitch during a football game.
The two tonne cow charged at the 22 stunned players just 10 minutes into the adult league football game in the village of Potterspury, Bucks
The cow played a few MOOVES, then the disgruntled beast POOED in the middle of the pitch after the referee held up a red card and ordered it to leave.
It is uncertain whether the cow thought it was ex-Chelsea star Frank Le Bouef or Manchester United striker Wayne Mooney. But it was UDDERLY useless at the game and had to be chased off the pitch by several players.
"The game had only been going a few minutes when the cow appeared through a hedge in the corner of the field where the pitch is," said Malcolm Jones, who writes the match reports for Potterspury Reserves. "No one knew where it had come from as there aren't normally cows in the nearby field. It was a bit panicky and started to wander around the pitch and charge at the players. The referee saw it and held up a red card, but the cow just did a big poo in the middle of the pitch. Eventually we managed to shoo it away back into the field, then we had to clear up his mess with a bucket and spade."
The football match was a North Bucks Division One clash between Potterspury Reserves and Southcott Reserves. It was the sixth game of the season and played at the Potterspury home pitch, which is in the centre of the village and surrounded by fields.
"I've been playing for Potterspury for 16 years and never had anything like this happen before," said player Adam Johnson, 28. "We couldn't believe it when the ref blew the whistle to say there was a cow on the pitch. "It wandered around staring at the players for a few minutes, then it did a big number two just 25 yards from the goal. It charged at all 22 players and the referee and even our only sub, Dan Ferguson, who was sitting on the sideline. It's the quickest he has moved all season."
Amazingly, despite the disturbance Potterspury went on to win 2-1.
"It was a very memorable match. We always play our home games on the same pitch and we've never been interrupted by a cow before," said Paul Johnson, Potterspury reserve team manager. "The team did really well, they got their heads back together quickly and went on to win.".
Our Story Appeared In