A rare snowdrop is looking rather glum as another variety has become the most expensive snowdrop bulb ever sold.
The distinctive "Grumpy" snowdrop which has two eyes and a turned-down mouth etched on one of its petals sells for around £100 a bulb. But a single bulb of the Scottish Elizabeth Harrison, Galanthus woronowii, snowdrop has gone for a massive £725 on eBay.
Many collectors are now hiring security guards or using tags to protect their rare and valuable snowdrops, which are becoming increasingly popular. A growing number of galanthopiles, snowdrop collectors, are willing to pay hundreds of pounds for the small white flowers, which first became fashionable in the mid 19th Century.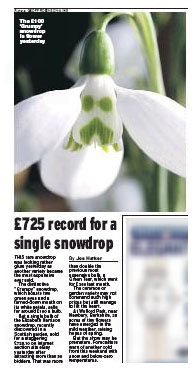 "The Elizabeth Harrison has become the most expensive snowdrop bulb ever sold," said Joe Sharman, 51, galanthopile and owner of Monksilver Nursery in Cambridge.
The stunning snowdrop arose as a seedling in a Scottish garden a few years back and is named after its owner. It has not been identified anywhere else, which is why it is so sought after. It is being sold by Ian Christie, a nurseryman in Scotland and has attracted more than 30 bidders in the online auction.
Mr Sharman discovered the fed-up Grumpy flower, Galanthus elwesii, in the garden of Sir Vivian Fuchs in Cambridge 20 years ago. Sir Vivian became a national hero when he made the first surface crossing of the Antarctic in 1957-8.
Mr Sharman now grows the flowers in a secret location near the city which he will not reveal for fear of theft of the valuable plants. The variety does not multiply as quickly as other types of snowdrop, which makes its price rocket. It is now among the national collection at the 70 acre Cambo estate in Fife, Scotland.
"I found a species in the garden of Sir Vivian Fuchs at Wolfson College in 1990 and developed it from there. I rescued as much as I could," said Mr Sharman. "One of the flowers that came from the species I named Mr Blobby and the next one Mr Grumpy. It's just a fun name and everybody likes fun names."
He added: "There are people who go around stealing snowdrops. I have to hire in security guards when I hold an event."
Our Story Appeared In