Christmas tree growers in Britain are in desperate need of a COLD snap to toughen up their trees for the festive season.
Farmers are praying for a FREEZING FROST in the next few weeks to improve their crop of Christmas trees and stop the needles dropping off before the end of the holiday period. While most of the UK has been enjoying the unseasonably mild weather, growers want a dip in temperatures to make their trees last LONGER.
"We have been really short of frost this year," said Roger Hay, secretary of the British Christmas Tree Growers Association (BCTGA). "A frost is needed to put the trees into dormancy which means they won't be affected by external matters so much and will be healthier, easier to look after and last longer. It also helps to fix the needles. When a tree freezes the branches put out a sugar which goes into the needles and helps to hold them on. Without a frost trees should last for six weeks without their needles dropping off, but any longer than that may be a problem."

Growers ideally want their Christmas trees to have two or three good frosts before they are cut down and sold. They say freezing temperatures also improve the green colour of the trees and help to kill off insects on the branches so they don't breed and damage the following year's crop. Without a frost trees which have already been cut down may not last the complete Christmas period.

"A few harsh frosts will make the trees shut down for the winter and help to set the needles," said Russell Parkins, owner of Dane End Christmas Tree Farm, near Ware, Herts. "With Nordman firs there isn't really a problem with needles dropping, but with traditional Norway spruces it happens. I've noticed a frost also makes my trees a better colour green. A few frosts will certainly give growers peace of mind."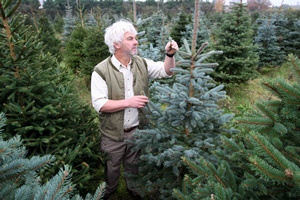 Vincent Thurkettle, 55, who grows Norway Spruce, Blue Spruce, Scots Pines and Nordmann Firs at Manor Farm in Great Hockham, Norfolk, said they ideally needed two weeks of cold weather.

"This time last year it was already bitterly cold and we'd had several hard frosts, but this year it's been much warmer." he said. "We really want a good two week cold spell to make the trees become fully dormant and go to sleep. When they are dormant the sap stops flowing and they don't have to be watered as much so they are easier to look after."

Experts also predict there will be a shortage of TALL Christmas trees in Britain this year. Families could struggle to buy the hugely popular Nordmann fir in sizes over 6ft tall. The tree has been the UK's best seller for a decade and has needles which do not easily drop. But there has been a major European shortage of the fir which means most of the trees were cut down last year and very few were left to grow tall.

"It will be tough to buy Nordman firs over 6ft as so many were cut last year to fuel demand," added Roger Hay, of the BCTGA. "In the South and East of England there were also problems with water shortages which has slowed down the growth of the Christmas trees. The prices for tall trees are also likely to be much higher as they will be in short supply."

Mr Hay said in the last five years prices of the Christmas tree had risen by up to 30 per cent and a 7ft tree would now cost £55 in some areas, such as London. But he said the shortage of tall Nordmanns was only a short term glitch and in another five years the country could be swamped with the trees.

"I think within the next couple of years we will start seeing more Nordmanns around again as the trees which have been planted start to mature," he said. "Then in around five years time we may have a glut. There could be too many in Europe and we may be struggling to find people to buy them and prices will fall."
Our Story Appeared In