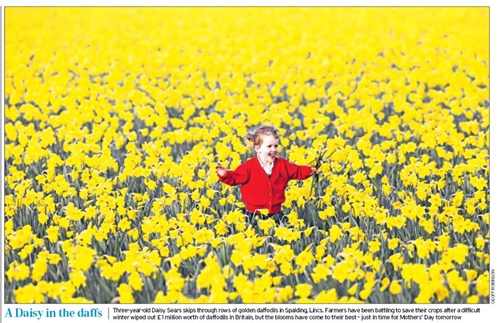 Little three-year-old Daisy Sears skips with delight through rows of golden daffodils as the flowers finally emerge just in time for Mother's Day.
The bright yellow plants are now in full bloom in parks and gardens across Britain and are at their best this week.
It is good news for farmers who have been battling to save their crops after a winter of topsy-turvy weather that has wiped out £1 million worth of daffodils in the UK.
"Mother's Day is one of our busiest times of the year so it's perfect timing," said Claire Taylor, who works at Taylor's Bulbs in Spalding, Lincs, which grows 400 acres of daffodils. "It is two weeks earlier than last year and the weather has been on our side for the last few weeks. Daffodils are a very popular flower for Mother's Day as they are so bright and cheery and remind you that summer is just around the corner. A field of daffodils brings a smile to your face, especially on a dull, grey day."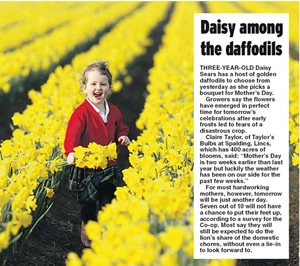 Unseasonably mild weather in January resulted in many daffodils flowering early this year, only for February's cold snap to kill off thousands of the tender plants. In Lincolnshire, the heart of the flower growing industry, there were some extreme temperature shifts last month moving from minus 16 to 17C in just two weeks. At Taylor's they lost almost 2000 boxes of their early variety.
"We started picking at the end of January then it became very cold and we had to stop for a month," said Claire. "We lost nearly 2000 boxes of our early variety and another variety grew but had been damaged by the cold weather so the flowers didn't open properly."
They are also concerned the extreme weather and lack of rain may have affected the bulb yield.
"We have had two very dry years and a real mix of cold and high temperatures so we're worried it may have affected the bulbs," she said. "We usually get around two-and-a-half times back but I'm not sure we'll get as much this year. We're hoping it may help to lift the price of the bulb though."
The farm expects to have harvested all its daffodils by the end of April. Daffodils make an excellent cut flower and can be grown in a row for that purpose. They come in many different shapes and colours that, with careful selection of varieties, can bloom for four months a year.
Our Story Appeared In