The largest wall of Virginia Creeper in Britain is turning a blaze of red as the mild weather sees this year's autumn leaves produce some spectacular colours.
The tinting trees are particularly vibrant and intense this autumn as the mix of sunny days and cold nights has concentrated the sugar in their leaves.
The magnificent 170-year-old ivy on the back of the building at John's College in Cambridge is no exception as the leaves change from green to a bright scarlet.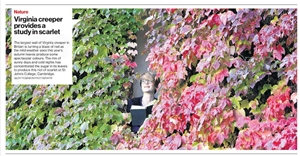 The vine, which climbs 10 metres high to the top of the four-storey building and is 60 metres wide, has become one of the most famous autumn sights in the University city. Three quarters of the creeper, which covers New Court, has now been turned into splendid shades of crimson and scarlet and the rest is expected to follow in the next few days.
"The creeper is believed to date back to the mid 1830's and now covers the whole of the length of the building," said head gardener Adam Magee. "There is a rumour that the new building was very expensive and the college ran out of money for the cladding so they planted the creeper to cover the brickwork. It is a magnificent sight in the autumn and the tourists are always told about it when they punt past. The college rooms opposite the creeper are some of the most popular because of the amazing views."
Our Story Appeared In