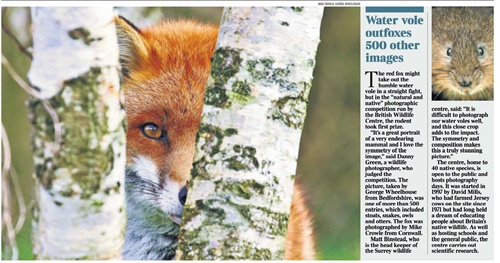 These beautiful shots of BRITISH birds and beasts have been selected from hundreds of entries in an annual photo competition.
The stunning images show a spectrum of British wildlife, including stoats, snakes, owls and otters. A cute close-up of a water vole, taken by George Wheelhouse, from Beds, was the winner of the third Native and Natural photo contest, which was run by the British Wildlife Centre.
"It's a great portrait of a very endearing mammal and I love the symmetry of the image," said wildlife photographer Danny Green, who judged the competition.
Head Keeper, Matt Binstead, added: "It is difficult to photograph our water voles well, and this close crop adds to the impact. The symmetry and composition radiating out from the lower third makes this a truly stunning picture of one of Britain's most loved mammals."
The contest attracted more than 500 entries, all snapped at the British Wildlife Centre, which is home to more than 40 different native species. Other shots show a red fox hiding behind a tree by Mike Crowle, from Cornwall and a weasel, which looks as though it is roaring, by Gary Stamp from Dover in Kent. A picture of a "smiling" otter was cleverly captured by Wendy Salisbury, whilst 14-year-old Jamie Holme, from East Grinstead in West Sussex snapped a staring wildcat. A slithering adder on a gorse bush was taken by Ian Rentoul, from Guildford in Surrey and a serene Snowy Owl was photographed by Ray Kilham, from Luton, Beds.
A spokesman for the British Wildlife Centre said: "With over 40 different species living in large natural enclosures, visitors can see a large variety of wildlife from tiny harvest mice through to magnificent red deer. "It's no surprise that the Centre is well loved by photography enthusiasts for providing the perfect conditions for wildlife shots that, in the wild, would take a great deal of patience and a lot of luck!"
Our Story Appeared In