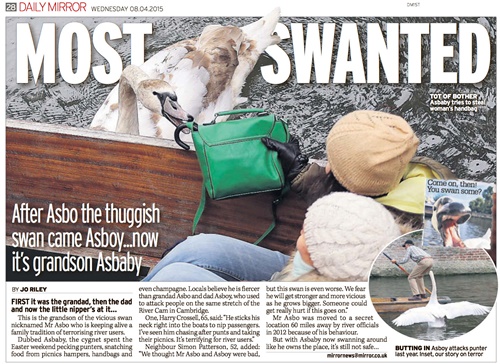 The young GRANDSON of vicious swan Mr Asbo is following in his grandfather's footsteps after terrorising punters on the River Cam.
The fledgling fiend, who has been nickhamed Asbaby, has been pecking petrified punters on the famous Backs in the university city. The savage swan, who has still got many of his brown baby feathers, is believed to be even more vicious than his grandfather Mr Asbo, who was moved to a secret location by the river authorities two years ago after he repeatedly attacked rowers.
Asbaby was seen over the weekend attacking tourists as they punted, stealing sandwiches from picnic hampers and flying at families on the waterway. The bird is believed to have inherited his bad temper from his grandfather, as well as his dad Asboy, who conducted a reign of terror on the river last summer.
"He is even more vicious than his father and grandfather and sticks his neck right into the punts and boats to nip passengers," said Harry Crossell, 65, who lives near the river. "I've seen him chasing after punts and taking their picnics. Once I even saw him put his beak around a bottle of champagne. It's terrifying for river users and it's making people think twice about going out on the water."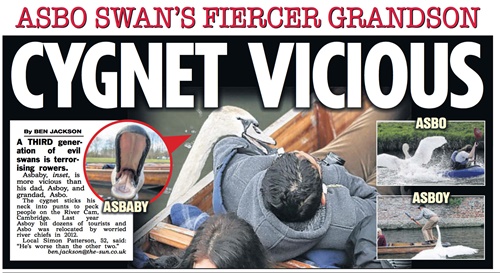 Another resident, Simon Patterson, 52, said they were worried he would get worse as he gets older. "The swan is only young at the moment, we're concerned he will get stronger and more vicious as he grows bigger." he said. "He swims up and down the river chasing anything which gets in his way. We though Mr Asbo and Asboy were bad, but this swan is even worse. It's very worrying as the river is starting to get busier now, if he continues someone could get really hurt."
The Cam Conservators moved Mr Asbo to a secret location about 60 miles away in 2012 because they said his behaviour was risking the safety of river users as well as himself. His behaviour left dozens of rowers with cuts and bruises and a special marshall even had to be employed during a university rowing race to prevent him from injuring the students. Last year Asboy was seen attacking punters, birds and even a cow. He also injured a canoeist and a swimmer.
Our Story Appeared In