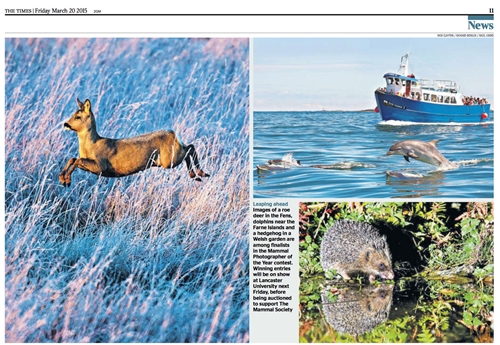 An incredible image of a pine marten captured on camera mid-leap against the background of a night sky is the winner of an annual photo competition to celebrate British mammals.
It was among 300 amazing wildlife pictures snapped in the British Isles for the annual Mammal Photographer of the Year competition. The photos of foxes and fawns, badgers and bunnies and hares and hedgehogs are reminders of the marvellous array of mammals which exist around us.
The contest aimed to encourage appreciation for the many British species which are often overlooked but essential to the health of our habitats.
"Every year, the Mammal Society photo competition gets stronger and stronger," said international photography judge Sophie Stafford. "This year, we were treated to an impressive collection of eye-catching portraits, evocative scenes and thrilling behaviour, which just prove that the most beautiful and exciting mammals in the world live on our doorsteps. It was wonderful to see so many challenging species and creative photographic techniques tackled by entrants. Everyone who made it through to the judges' shortlist should be very proud."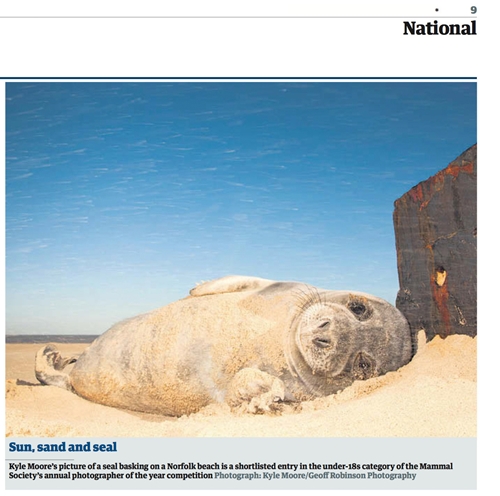 The winning picture was taken by Maurice Flynn, 46, from Waterford City, Ireland, who used a camera trap and sat at night waiting for the pine marten to appear. "The picture I wanted to get was of them jumping or moving through the trees. They never came out in daylight so it had to be done at night," said Maurice, who spent a considerable time getting familiar with the animal's movements.
Wildlife garden expert Kate MacRae, who helped judge the contest, said it was a "cracking image." She added: "Most of us would be thrilled with a static picture of a pine marten, but the technical expertise and dedication to capture a perfectly exposed camera trap image such as this, is impressive. A cracking image that is testament to the dedication of the photographer."
Other winning images included a rabbit in green grass by Ben Andrews, from Bedfordshire and Daniel Trim's shot of two fallow deer stags locked in combat as they battle for females during the rut in Richmond Park, Surrey. Another picture shows an atmospheric image of a polecat by Richard Bowler, from Corwen in North Wales, whilst Ian Hull has captured a shot of a fox dozing by a tree. Bottle nose dolphins are seen playing in front of a ship in an image by Nick Clayton, whilst a mountain hare sits in the snow in a picture by David Gibbon.
Young talent was also celebrated in the competition with the winning image of a silhouette of a red deer hind taken in Richmond Park, Surrey by 16-year-old Kyle Moore, from Lowestoft in Suffolk. Judge Kate MacRae said: "This image stood out straight away. Beautifully composed, the silhouette of the slender doe stands framed by the ground and the foliage overhead. "A difficult shot to expose correctly, this image captures the golden sunset perfectly and that moment when the deer paused listening. A super atmospheric and well composed image."
Also making the judges' shortlist were photos of some of Britain's smallest mammals, including harvest mice, water shrews and wood mice.
Our Story Appeared In