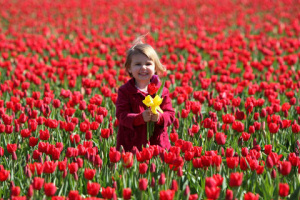 This may look like the heart of Holland but incredibly little two-year-old Isabella Ward is tiptoeing through the tulips in the middle of the English countryside.
The Norfolk landscape is a kaleidoscope of colours as the tulips finally burst into life after a later than average Spring.
Sadly these are the last remaining tulip bulbfields in Britain at Cockley Cley, near Swaffham. At the beginning of the 20th Century more than 3,000 acres of tulips were grown in Norfolk and Lincolnshire but today this has diminished to just 35 hectares.
Janet and Peter Ward, who run Belmont Nurseries, have been growing tulips for 10 years and supply 15 million stems to supermarkets each year.
"There used to be lots of tulip fields in this area and people would come on bus trips to see the flowers like they do in Holland," said Janet.
"Now I believe we are the only tulip bulb growers left in Britain. I don't know anyone else that does it anymore.
"People in the flower trade have to be able to supply the supermarkets these days so you need to operate on a big scale in order to survive.
"There are less young people in horticulture now and the generation of tulip growers is dying out."
Tulips first arrived in Britain in 1907 when Frederick Culpin brought in 100 bulbs of six different varieties and established the British tulip fields.
By 1935 more than 300 people were visiting the fields, arriving from London by train and bus to witness the coming of spring.
This number had increased to more than 100,000 people by 1949 and special daily sightseeing routes were established to enable the visitors to see the best of the day's blooming flowers.
But in more recent years many tulip growers have been forced to convert their land to more profitable vegetable and cereal crops.
"We have been growing our tulips for around 10 years," said Janet.
"My husband has been in horticulture since he was 17 and felt he could grow them as well as the Dutch.
"It is a lot of hard work but the business is going very well."
The couple, whose son and daughter also work in the business, grow 35 hectares of tulips each year in a range of varieties and colours.
Some of the tulip heads will be removed next week to supply the famous Spalding Tulip Parade, which uses 300,000 tulips to decorate its floats.
"Our colourful tulip fields do cause quite a stir, particularly as the land around them is used to grow carrots," added Janet.
"The people who live near the fields are always very pleased to see the bright colours."
Appeared In