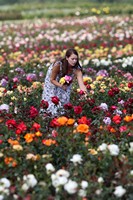 The OLDEST rose growers in Britain are celebrating after the hot sunny weather caused their bumper crop of flowers to bloom an incredible THREE WEEKS early.
Cants Roses, which were established in 1765, say it is the best year for roses in living memory and the earliest their field of flowers has blossomed in 35 YEARS. Owner Roger Pawsey says the long sunny days have made this year's crop of roses more vibrant and colourful than he can ever remember.
"It's an absolutely fantastic year for roses as they are out early and the sun has made the colours really vibrant and intense," said Roger, who runs the 245-year-old business with his sister Angela and brother Martin.

"It's hard to remember a season that was so early but I think it must have been in 1976 when we had another hot, dry summer.

"Roses are one of the few plants that do well without much rain as they are deep-rooted, but the last few days of wet weather have made them look even better.

"We've had lots of compliments from visitors saying how amazing our roses look this year."

Roger and his family grow a remarkable 40,000 roses in a two-and-a-half acre field near Colchester in Essex. They are direct descendants of the founders who began growing roses more than two centuries ago. In the early years the firm grew all sorts of plants, including azaleas, fuchsias, peaches and apricots. But in 1853 Ben Cant was introduced by a friend to some new roses developed in France and as the popularity of the flower was growing he decided to concentrate on it. By 1880 Ben had emerged as the country's leading rose exhibitor and in one month was reported to have won 54 prizes at major rose events all over the country. Today the family grows all types and colours of roses and their field is open for visitors to wander through every day.

"The field smells fantastic at the moment with all the flowers blooming," said Roger.

"One of our varieties called Iceberg is even showing a pink colour that normally doesn't come out until the autumn.

"I think that as the roses have come out so early this year there is even a chance that people may get a second flowering before the winter if they are lucky.

"Sales have been really good as many visitors have lost other plants over the cold winter and are now turning to roses.

"Roses do give fantastic value as they only need a little bit of spraying and feeding and they can give pleasure for years."

The rose plants at Cants are dug up in October for people to buy, so the family hopes the sunny weather continues.

"The roses are on track to be one of the best crops we have ever had," he added.
Our Story Appeared In