An extreme bargain hunter FLEW from a business meeting in Sheffield to his home in Essex via BERLIN – because it was nearly £8 CHEAPER than taking the train.
Jordon Day, who is nicknamed The Coupon Kid, saved £7.72 by taking an international flight home via GERMANY instead of catching a UK train. The 18-year-old, who admits he always goes "the extra mile to save money" ended up going an extra 1,017 miles to save some cash – and even had some spare Euros for a currywurst.
Jordon said: ""Even by my usual standards, I'll admit this is a rather extreme way of saving money. I know that flying is not environmentally friendly and I won't do this every time I travel, but this was the cheapest way for me to get home and I got to enjoy a 'free' mini holiday to a city I've always wanted to visit."
Jordon, a deals and coupons blogger at MoneySavingExpert.com managed to book a cheap £19 train from his home in Shenfield, Essex to Sheffield, where he was teaching a class on couponing. But coming home the cheapest one-way ticket he could find was £47, so he looked for some cheaper alternatives. He discovered he could fly home via Milan, Copenhagen, Dublin or Berlin with Ryanair and it would be cheaper than a single train journey in England.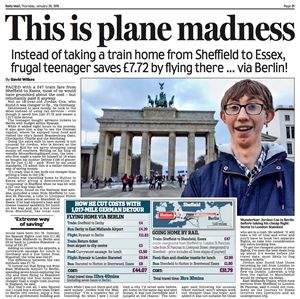 He said: "I had a look round for some cheaper ways to get home and discovered that flying with Ryanair was the best deal. In the end I chose to travel via Berlin as it was the cheapest and the furthest away so I would get my money's worth. It is also a city on my bucket list that I have never been to before, so to have a short holiday there for less than the price of my train fare was brilliant."
Jordon, who booked his flight around three weeks in advance, flew from East Midlands Airport to Berlin. He then spent seven hours in the city before flying to Stansted and catching the bus home. He spent £4 on a train from Sheffield to Derby, £4.20 on a bus from Derby to East Midlands Airport, £11.83 on a Ryanair flight to Berlin, £9.54 on a flight from Berlin to Stansted and £8 on his bus ride home, totalling £37.57. A train from Sheffield to Shenfield was £47.He also managed to use the money he saved to buy a return train ticket to Berlin city centre, enjoy a free tour of a government building and buy a currywurst for lunch.
He added: "I had a great day and loved my time there. I know this sort of money saving is not for everyone, but if you have time and enjoy visiting new places you can't put a price on that. For the experience it was well worth it."
Our Story Appeared In