Extraordinary pictures have been revealed showing the caring side of Prince William as he went above and beyond the call of duty at work, comforting a patient and even travelling with him in the ambulance.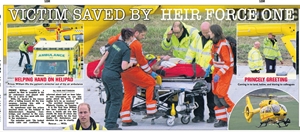 Photos show the Duke of Cambridge reassuring and comforting a patient after flying him to hospital in the air ambulance.
As co-pilot William is usually seen waiting in the helicopter cock-pit while his colleagues carry out the medical tasks. But this time it was the Duke who was the first to quickly jump out of the helicopter and pull the patient out on a stretcher after landing at Addenbrooke's Hospital in Cambridge. He looked calm and confident as he then worked together with the paramedics to carefully move the patient onto the waiting ambulance trolley.
William, who would then normally return to the helicopter, was seen going the extra mile as he climbed into the ambulance to accompany the patient on the short drive to the hospital entrance.

The Duke was driven back to the helicopter in the ambulance around 30 minutes later and looked more relaxed having completed his mission. He was seen chatting to his colleagues as they wheeled the stretcher back into the helicopter, then waved goodbye to the two female ambulance drivers. William then returned to his duty as co-pilot, checking over the helicopter, before climbing aboard and setting off on his next emergency mission. It is the first time William, who has been working for the charity for the last eight months, has been seen directly helping with medical tasks.
In the past he has been pictured in the helicopter, but now the true extent to which he throws himself into the life-saving work can be seen.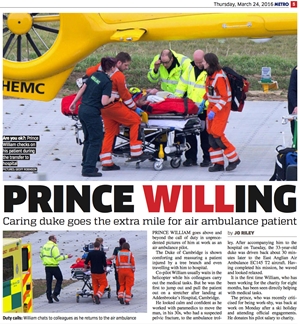 Our Story Appeared In