Meghan Markle and Prince Harry were seen smiling and laughing as they attended his cousin's wedding - four weeks after their big day.
The new Duchess of Sussex stunned in a long-sleeved blue-and-white paisley shirt dress and white fascinator at the wedding of Princess Diana's niece, Ceila McCorquodale. Celia, 29, who is the younger daughter of the Princess of Wales' sister Lady Sarah McCorquodale, attended the Royal couple's wedding exactly a month ago.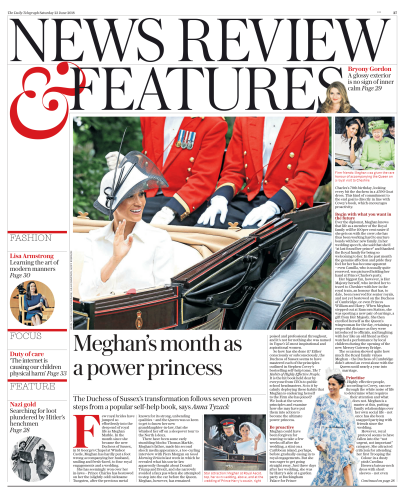 Today she returned the favour by inviting Prince Harry and Meghan to her country wedding to George Woodhouse at St Andrew and St Mary's Church in Stoke Rochford, Lincolnshire.
Harry and Meghan looked delighted to be at the occasion as they arrived at the pretty country church holding hands.
Prince Harry was dressed in a morning suit, with a Royal blue tie to match Meghan's dress. Her dark hair was neatly pinned up.
The pair were warmly greeted by the Spencer family, with Prince Harry's cousin, Louis Spencer, 24, who was recently dubbed Britain's most eligible bachelor, giving him a bear hug. Meghan was seen giving Louis a kiss on the cheek.
The bride, Celia, arrived at the church in a vintage green and gold Rolls Royce and walked into the church on the arm of her father, Neil McCorquodale. Her bridal train was carried by a pretty flower girl and she was accompanied by an array of bridesmaids.
Other guests included Princess Diana's brother Earl Charles Spencer and her sister Lady Jane Fellowes, who did a reading for Prince Harry and Meghan Markle at their wedding.
Prince Harry's cousin, Lady Kitty Spencer, 27, who is an aspiring model, was also at the wedding and looked stunning in a green floral dress.
The wedding guests were later invited back to a reception at Celia's parents' home nearby.
More Press Cuttings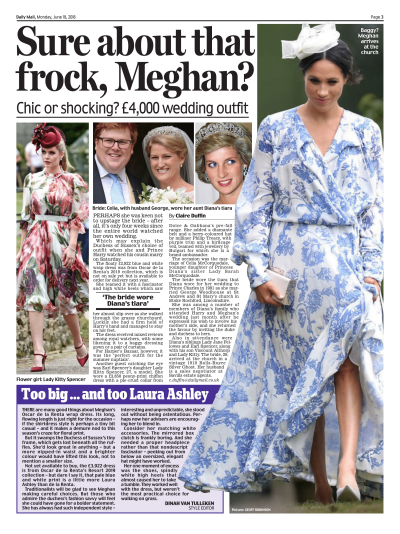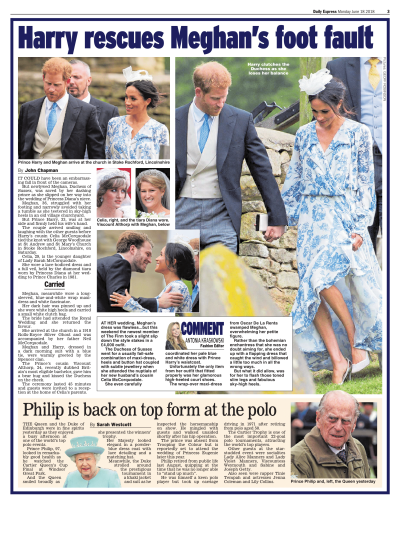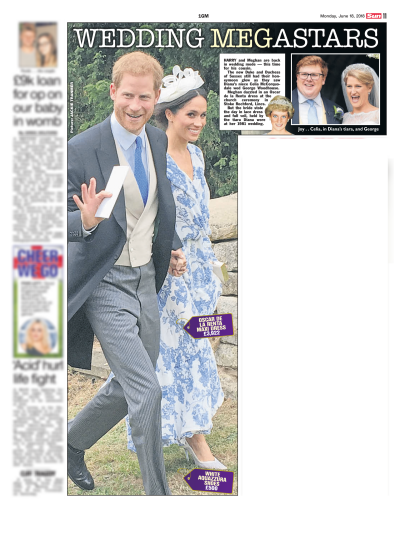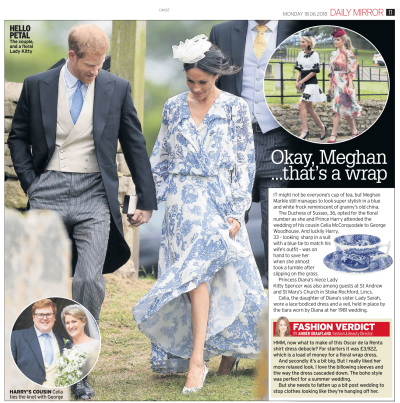 Our Story Appeared In