Rolling Stones guitarist Keith Richards was given special permission to SMOKE on stage during his concert in London this week.
The aged rocker was given special dispensation by the local council after he was spotted puffing on a cigarette during his performance at The London Stadium in Queen Elizabeth Park, Stratford. The 74-year-old was cheered by the crowd of 70,000 as he lit up before his guitar solo – flouting the strict no smoking rule. But Newham Council said today (Thurs) they would not be taking any action because smoking was part of the act.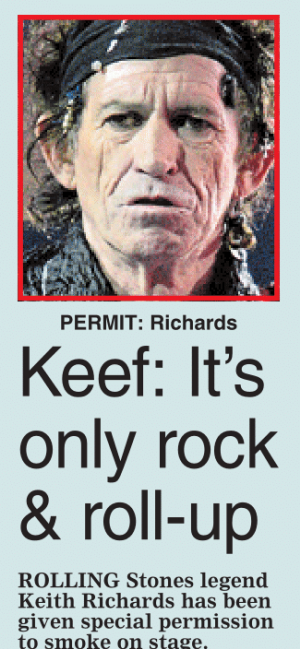 A spokesperson for Newham Council said: "Smoking on stage is permitted 'where the artistic integrity of a performance makes it appropriate for a person to smoke', (Smoke-free exemptions and vehicles regulations 2007), therefore no action will be taken."
Since July 1, 2007, it has been against the law to smoke in an enclosed or partially enclosed public space.
The Rolling Stones were kicking off the first night of their European No Filter tour. It was the first time they had performed in London for five years. They will also be playing at Old Trafford Stadium in Manchester, Murrayfield Stadium in Edinburgh, the Principality Stadium in Cardiff and Twickenham Stadium in London. The four members of the band have a combined age of 293 and did their first British tour in 1963.
Richards' rebellious antics are nothing new. In the 70s as he battled heroin addiction he was given six months to live. In 1977 he was arrested in Canada for possession of heroin and had to play a free concert. He has been tried on drugs-related charges five times.
Our Story Appeared In