A stunning array of images showing nature in all its glory from dancing insects to a magnificent meteor have been selected as winners in the annual Glanzlichter photo contest.
A picture of a large brown bear and a tiny bird taken in Slovenia came top in the nature competition, which has been held for the last 21 years and is open to photographers from around the world. Michaela Walch, from Austria, spent five hours waiting in a hide to capture the incredible photo, which she called David and Goliath.
There were nine categories in the contest, which saw photos submitted from 40 different countries and the judges spent four days selecting the winners. Alexandra Wuensch, from Germany, came first in The Beauty of Plants section for a stunning photo of an amber tree losing its colourful leaves in the snow in Duesseldorf. A colourful picture of a meteor taken on the black sands of the Canary Islands came top in the Nature as Art section and was snapped by Radomir Jakubowski, from Germany.
Heinz Buls, from Germany, took a photo of a bird landing on a toadstool on an Autumn morning to score first place in the Artists on Wings category. Whilst a wonderful picture of wild rabbits leaping in the air, entitled War and Peace, came first in the World of Mammals section and was taken by Csaba Daroczi, from Hungary. A close-up of a caudata entitled, Small Dragon, helped Egor Nikiforov, from Russia, win first place in the Diversity of all other Animals category.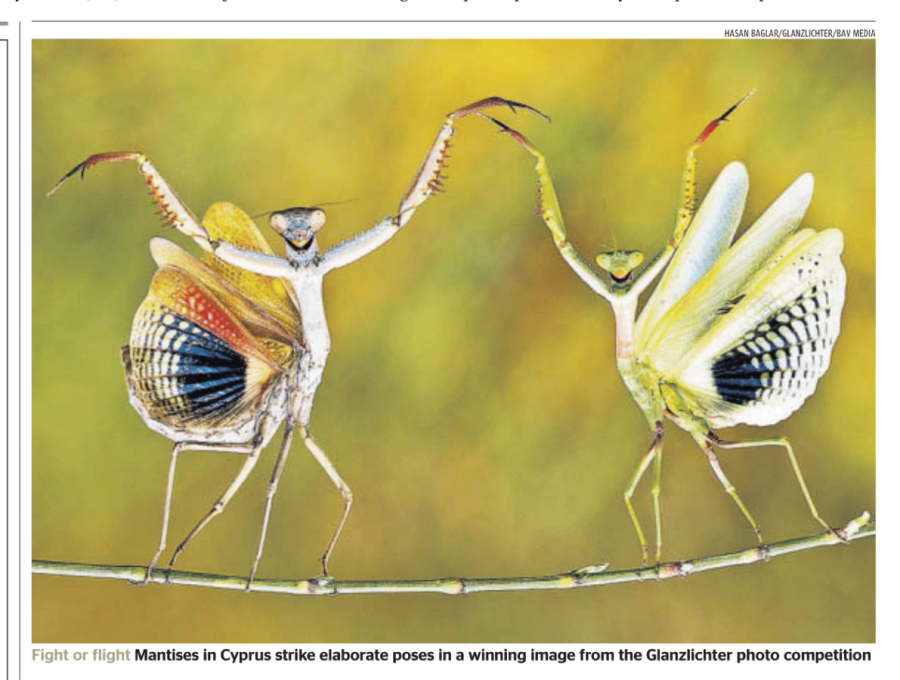 Other winning pictures show giraffes in Kenya, European mantis insects balancing on a twig and the morning sun beams over the countryside in Hungary. The photos will all be exhibited in galleries at museums and parks in Germany and Italy over the next two years.
Our Story Appeared In