The Dull Men's Club, which has included women since 2017, has more than 50,000 members, who are passionate about everyday mundane things, which others think are dull.
A TELEGRAPH POLE enthusiast, WET FLOOR sign fan and a WASHING MACHINE collector are among the "boring" men and women who appear in this year's Dull Men's Club calendar. A man who collects security envelopes, the owner of a classical gas museum and a man who spends up to 10 hours a day completing jigsaw puzzles have also made it into the world's top dozen dull people. Leland Carlson, assistant vice-president of the Club, has published the calendar to celebrate the quirky passions of its members in Britain and America.
January's entry is vintage washing machine restorer Lee Maxwell, who has more than 1,100 on display in his museum next to his home in Colorado. Lee has spent years travelling all over America, the UK and Australia hunting for vintage models, which he then painstakingly cleans and repairs to fully working order. The pensioner, who was awarded the Guinness World Record for the largest collection of antique washing machines in 2000, said: "I love all aspects of my hobby - hunting, restoring and demonstrating. The hunting is probably my favourite part. We've hunted all over the world and not only found washing machines, but also found some very grand people along the way."
Mr February is Mark Routh, from Southend-on-Sea, who has a collection of more than one million postcards. Mark, who has been collecting for more than 50 years, stores his postcards in 150 shoe boxes, as well as albums in his home. "My father bought me my first postcard when I was eight. It depicted a New Forest pony. Little did he know then what this would lead to," he said. Mark, who prefers buying postcards to taking photos, said his collecting gives him a reason to travel. He added: "Often my destinations are chosen based on cards I hope to buy when I get there. My wife Jo and I travel a lot. We did a tour across America in 2018 and filled an entire shoe box with postcards. The others on the tour watched it grow with amazement." He said last year in Berlin he picked up 14 different postcards of the old Berlin Television Tower.
Another calendar entry is security envelope enthusiast James Folta, from New York City, who says he loves the different colours and motifs of the graphic patterns on the inside of the envelopes. His hobby started out as a desire to save paper but has now turned into a collection, which he keeps in a special folder. James, a writer and stand-up comedian, who now opens his envelopes very carefully, said: "I started to tear up my mail to use as scratch-paper. I'm an obsessive list-writer and it seemed better to make my lists on paper I would otherwise throw out. The process of eviscerating all that mail introduced me to the insides of security envelopes and their printed patterns."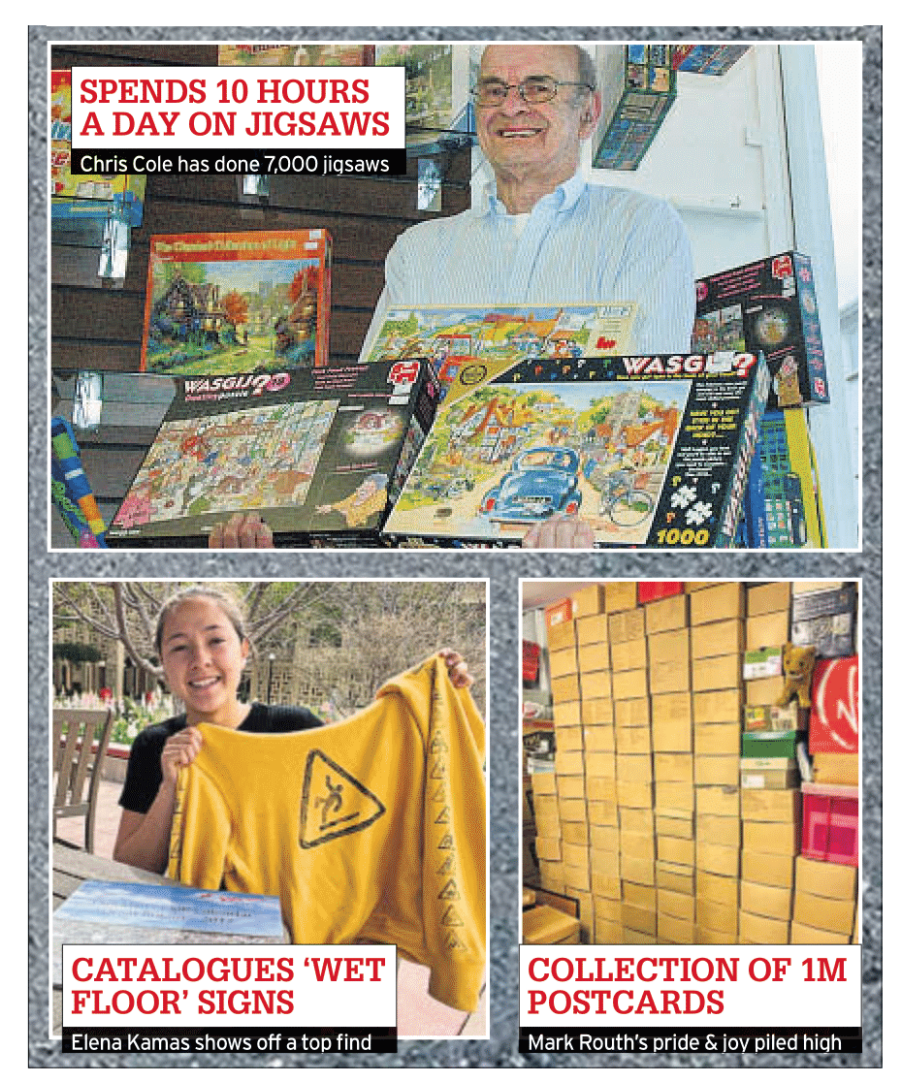 April's entry is puzzle man Chris Cole, from Devon, who has completed more than 7,000 jigsaws over the past 20 years. Chris, who spends up to 10 hours a day completing puzzles, said: "I've been doing it for so long I've completed the same puzzle design as many as ten times. I relish the really hard ones like ones with blue skies or thatched roofs. A very large, complicated puzzle can take over 20 hours. Sometimes I totally lose track of time and need to be reminded by my wife that it's bedtime." Chris, who also completes puzzle for his local charity shop to see which pieces are missing, added: "It's so therapeutic. It teaches you to be patient. The fun is in the doing. You can really lose yourself in it."
Johnnie Meier, from Embudo, New Mexico, has a classical gas pump museum and has been collecting road culture artifacts since 1987 and many art directors come to him for props for films, fashion shoots and commercials. He said: "I enjoy the restoration process — disassembling, sandblasting, banging out dents, filling holes, finding missing parts, and painting. When I'm restoring something, I don't want it to end."
Design student Elena Kamas, from Stanford University, who also appears in the calendar, has recently started taking pictures of wet floor signs pictograms and already has more than 150 photos. She also takes photos of her and her friends emulating the different falling positions on the signs. "I have to say I didn't pay them much attention at first, but then I realised that every wet floor sign in my dorm had a different pictogram," said the 20-year-old.
The calendar also features Martin Evans, from West Wales, who is the founder of the Telegraph Pole Appreciation Society. Martin has been a fan of telegraph poles since he was a young boy and founded the society, which now has more than 1,000 members, in 1997. He said: "Some people appreciate the art of Turner or Constable. We appreciate the aesthetic beauty of the poles and their place in our landscape. "We don't care what the wires carry. They all carry electricity in some way, be it the sparky stuff which boils your kettle, or the thinner stuff with your voice in it when you're on the phone. It's their ubiquity, the shape and variety of the paraphernalia atop, and those curious markings and placards that adorn the pole itself that interest us."
Other entries are cactus grower Steve Reszetniak, from Margate in Kent, who has more than 250 plants in his conservatory; and America's timekeepers Demetrios Matsakis, from Washington DC and Judah Levine, from Colorado. Another entry, Ron Wallace, from Greene, Rhode Island in America, grows award-winning giant pumpkins and has the Guinness World Record for growing a pumpkin which weighs more than one tonne.
The Dull Men's Club Calendar for 2021 costs £11 and is available to buy from Amazon.
Our Story Appeared In