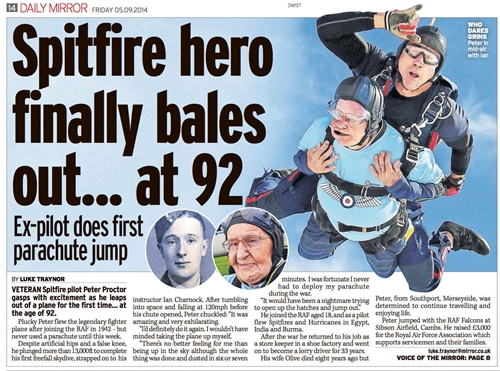 A 92-YEAR-OLD former Spitfire pilot has become Britain's oldest male skydiver to leap out of a plane at an incredible 12,000 FEET.
War veteran Peter Proctor flew Spitfires and Hurricanes every day for four years during the Second World War, but never had to use a parachute.
Now, nearly 70 YEARS after leaving the RAF, the plucky pensioner, who walks with a stick, has made his first skydive, falling at around 120 mph before the parachute opened.
"It was amazing and very exhilarating, I'd definitely do it again. In fact I wouldn't have minded taking the plane up myself," said Peter, from Southport, Merseyside. "I flew planes in the Second World War but everyone was surprised because I never had to use a parachute, thank goodness. I didn't feel nervous before the skydive, the jump didn't bother me one bit."
Peter was 19 when he joined the RAF 11 Squadron in South Africa in 1942. He completed his flying training in Zimbabwe, then went to Egypt to do operational flying training in Hurricanes. He later served in Burma and Singapore, where he flew Spitfires, and left the RAF in 1946. Peter decided to do the tandem jump at Sibson Airfield in Peterborough, Cambs, to raise money for the RAF Association, which provides support to servicemen and their families. The pensioner, who has no children and whose wife Olive died eight years ago, has already collected £3,000 and the money is still pouring in.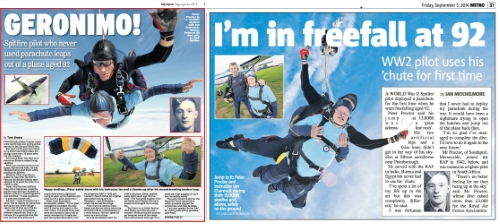 "It's amazing that he has done the jump at the age of 92 and he is the oldest man to have done a skydive for the RAF Association," said Barry Harteveld, of the RAF Association. "He wanted to jump to raise money for the Association and it is fantastic that he has collected so much. He is young at heart and has had us all in stitches here today. He can't quite believe what all the fuss is about. He said when he was a pilot there was no parachute training, he was just given a parachute and told to strap it on his back."
Grandad George Moyse, 97, from Dorset, became Britain's oldest skydiver to leap from the smaller height of 10,000ft in 2009.
Our Story Appeared In