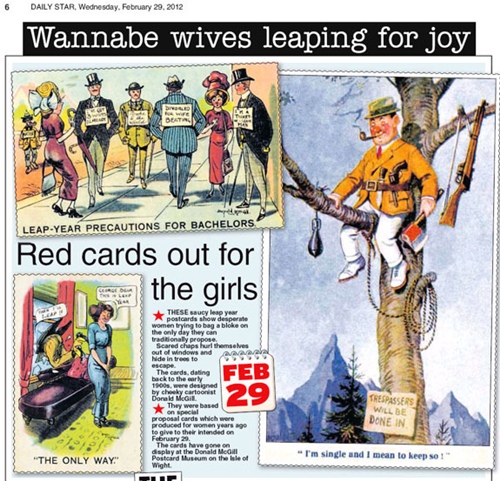 A museum has unearthed a collection of rare marriage proposal LEAP YEAR cards from a bygone era when it was only deemed proper for women to pop the question on February 29.
The hilarious tongue-in-cheek cards by saucy postcard artist Donald McGill feature desperate women trying to ensnare a husband on the only day they could respectably propose.
The sexist cards, which date from the early 1900s, show undesirable women who supposedly have no chance of getting a husband unless they ask themselves. They have now gone on public display for the first time in nearly 90 years.
In the 1800s and 1900s special marriage proposal cards were produced for women to give to their intended. Most of McGill's cards, made between 1910 and 1925, show scared men who don't want to get married or large women who will do anything they can to catch a husband. One of McGill's cards shows a large woman pinning her worried loved one to the ground with the words: "I hear you've been taking lessons in jiu-jitsu for leap year."
While another design features five men wearing placards to warn women away and the slogan: "Leap year precautions for bachelors."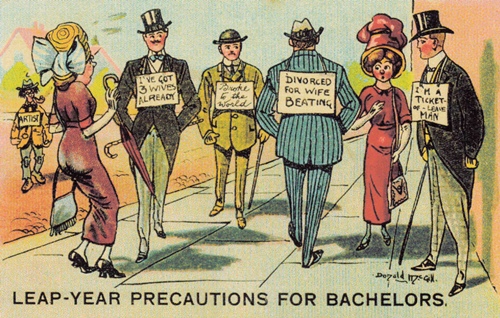 Another is entitled "A Maiden's Prayer" and shows a rather unattractive woman praying that her man will accept her marriage proposal: "Now I lay me down to sleep, bless, oh bless, the year of leap. Unless a man jumps like a flea, he'll never get away from me."
A post war card shows a woman with huge muscles and an iron bar and the message: "Last year I was too busy making munitions, but look out for yourselves this year you men!" McGill features a scared man jumping from a second-storey window after his partner has proposed in one postcard, while a woman with a rope is shown trying to catch a man walking round the corner in another design.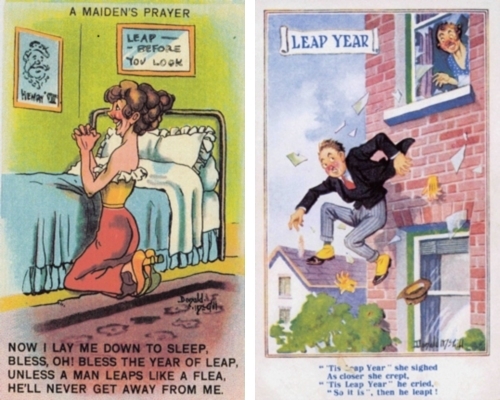 "We were really surprised to find McGill had produced these unusual leap year cards," said James Bissell-Thomas, owner of the Donald McGill Postcard Museum in Ryde, Isle of Wight. "He is obviously most known for his seaside cards, but these just show that he was actually very diverse and is using Leap Year as an excuse for more puns and jokes. The cards have not been publically displayed since they stopped being produced in the 1920s."
For centuries it was considered improper for women to propose, but there is a long tradition in Britain that proposals by a woman on a leap year were seemly and right. Legend has it that in 1288 in Scotland it was made legal for women to propose to men on a leap year only. If he declined he was told to provide her with a silk dress or a pair of gloves.
"The cards are rarer than the seaside set as they were only produced every four years when there was a leap year," added James.
Our Story Appeared In