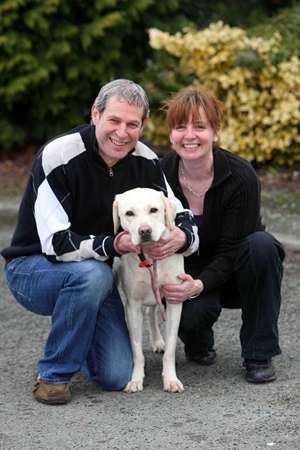 A mischievous puppy has escaped death TWICE after swallowing a FROG and a COW.
Vets were shocked when they x-rayed golden Labrador Chester and found a 10-cm plastic frog toy filling his stomach.
Then just six weeks later owners Marion and Neale Clarke had to take the 21-month-old pup back to the vets after he ate a squeaky cow toy.
"Both times we knew he had swallowed a toy, but we weren't exactly sure what," said Mr Clarke. "The vets were rather shocked when they did the x-ray and saw the frog with its huge goggle eyes. None of us could believe he had managed to swallow such a big toy."
The cheeky pup began his toy-swallowing habit in December when he was let off his lead to play with a group of dogs in a field. He picked up the frog toy when another dog dropped it and ran off with it in his mouth.
"Chester has a fixation for toys and grabbed this toy as soon as the other dog let go," said Mr Clarke. "Rather than lose it or let the other dog have it back, Chester decided to swallow it. It was a big toy, but I guess it was quite soft and squidgy so it went down his throat and into his stomach. If we hadn't noticed it would have stayed in his stomach and could have caused a fatal blockage."
The couple took Chester to Cromwell Vets in Huntingdon, Cambs, who x-rayed the dog and found the big frog.
"Chester wasn't showing any symptoms but his owners knew he had swallowed some sort of toy so we x-rayed him," said vet David Fennell "We were surprised to see the frog and it was really quite big, taking up most of the length of his stomach. It could have been dangerous if it had passed into his intestine but in this instance the toy was probably too big."
Vets surgically removed the frog and Chester made a quick recovery. But last week he was back on the operating table after taking a 7cm squeaky cow toy from the same dog and swallowing it again.
"I couldn't believe the same thing had happened," added Mr Clarke, from Hartford, near Huntingdon, Cambs. "We're really lucky we have insurance as the bill was £1,000 each time. Chester was a bit wobbly when he came home and slightly unsettled but he is much better now and wanting to go for walks again."
The couple, who have another Labrador called Benson, said Chester was now only allowed to play with big toys.
"We've taken away his tennis ball and now he has an over-sized plastic bone which he likes to chew," added Mr Clarke. "He is a very sociable dog so we may have to keep him on his lead when he is out with other dogs so this doesn't happen again."
Vet Mr Fennell said: "It is not uncommon for young dogs to swallow unusual things and we have had dogs who swallowed stones and even one who swallowed six golf balls. Chester reminded us of the song, 'There was an old lady who swallowed a cow'."
Our Story Appeared In