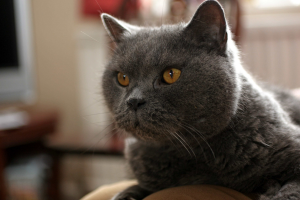 An overjoyed owner told today (Thurs) how her cat survived an incredible seven weeks without food or water trapped under the floorboards of the house next door.
Miracle moggy Harry vanished from his home just before Christmas.
But despite frantic searches his desperate owners Rod and Paulette Kennedy could find no trace of him. They were left stunned when the seven-year-old cat was suddenly discovered stuck under the floorboards of the empty house next door an amazing 48 days later.
Vets said Harry was just an hour away from death when he was found. But he somehow survived his remarkable ordeal – despite freezing winter temperatures as Britain was hit by the heaviest snowfall for 15 years.
Relieved Paulette said today: "It is just a miracle that we've got him back.
We kept praying that we would see him again but as the days and weeks went past we had virtually given him up for dead.
"Every time I look at him now I think how awful for him it must have been.
It's just wonderful to have him back."
Harry disappeared from his home in Blisworth, Northamptonshire, on December 19.
Paulette and husband Rod, who own John Henry Sports in Northampton, searched for him every day.
They put up posters, alerted vets and contacted the Cats Protection League, but there was no sign of him.
Then just as they had given up all hope after seven weeks, the puss's pitiful cries were heard by a shocked neighbour.
The find was an incredible stroke of luck as she had turned up that day by chance to inspect her house next door which is currently being renovated.
Rod said: "With the building work going on next door we knew there was a chance Harry had got stuck in the house or had come to some harm.
"We searched that house all over but we never saw or heard him.
"Harry must have got trapped under the house somehow and not been able to get out.
"It was only when the builders ripped up some of the floorboards that Harry was able to crawl to the opening and he was heard crying."
Starved and frightened, Harry was whisked to the Towcester Veterinary Centre who immediately put him on a drip and antibiotics.
He was almost totally dehydrated and had lost three quarters of his normal body weight.
Rod said: "Harry was half dead when we found him. Although we were delighted to have got him back that soon turned to the fear that he was so ill he might die anyway."
Harry is now back at home and has put on some of the weight he has lost, although he is still suffering from injuries to his back legs and has lost his voice.
We just want to say a huge thank you to everyone at the vets who has nursed him back to health," added Paulette.
"We thought we'd lost him for good.
"He was about an hour away from dying, he was in such a bad way. We rushed him down to the vet and we thought he'd died on the way there, but he rallied round.
"You'd have thought he'd have made himself heard or something while he was trapped, but he didn't come out.
"All the nurses were just amazed, they said in all their studies they'd never seen anything like it. It's a very happy ending."
Veterinary centre head nurse Vickie Boswell said when Harry was taken in, he was "nearly dead".
She said: "He weighed just three kilos, he was very, very dehydrated, as well as being emaciated.
"We've done some tests and everything is functioning as it should be.
"We think he was without food or water for somewhere in the region of about seven weeks, but we think he was probably getting some moisture or water from some soil somewhere because he had some soil in his mouth.
"We're really pleased, everybody's really pleased. It's such a rare case to be involved in. This is not something you see very often."
Jenny Millington, the vet who treated Harry, added: "When Harry came in he couldn't stand and was extremely weak.
"We had to give him a drip and specialised food and help him to swallow.
"I'm very surprised his liver and kidney weren't affected by the ordeal. It's absolutely amazing that he pulled through."
Appeared In