These incredible photos show the wonderful array of wildlife which can be found hidden in Britain's endangered wetlands.
A remarkable 200,000 waterbirds live and breed among a network of 2000 hectares of wetlands across the UK. Ducks and dragonflies, grebes and gulls, swans and otters live side by side in Britain's fast disappearing wetland reserves. In winter they are joined by thousands of migratory birds, creating some of nature's most spectacular sights.
Now the inhabitants of this watery world can be seen in this amazing collection of winning entries in a photographic competition organised by The Wildfowl and Wetlands Trust (WWT).
"Wetlands are extraordinarily beautiful and the UK has some of the world's best wetland sites," said Martin Spray, chief executive of the WWT. "The quality of entries in the autumn heat has been outstanding this year and the competition encourages people to get really close to some fantastic wildlife. Waterbirds are some of our most elegant and colourful animals and are also very photogenic."
The pictures have all been shot at the WWT's nine specialist wetland centres in the UK, where the public can get up close with wildlife and waterfowl.
The winners beat more than 2,500 entries in the autumn heat of the competition.
Categories included wetland wildlife, wetland landscapes, wildlife and people and the young photographer of the year.
A gull diving head first into the water at London's wetland centre helped Tom Hines win the wetland wildlife category there.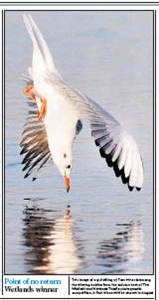 The cleverly captured images include a flock of flying black and white Barnacle Geese, an inquisitive duck staring straight at the camera, a gull scratching its leg and a fluffy black necked swan.
A beautiful sunset picture, taken by Ian Cook was the winner of the wetland landscape at the Washington centre in Tyne and Wear.
While a close-up of a man's and a duck's feet won Sally Sanford the people and wildlife category at Arundel centre in West Sussex.
Schoolboy Ben Cullen's shot of a Shoveler duck looking down the lens won the young photographer section at Slimbridge in Gloucestershire.
The winners will now go through to the competition final which will be judged next August once the winter, spring and summer heats are complete.
Entrants are encourages to enter more than two of the seasonal heats to be in with a chance of winning the portfolio photographer of the year and a trip to Antarctica.
"In the last millennium about 90 per cent of UK wetlands have disappeared and in the last 100 years 20 ponds a day were destroyed," said Mr Spray. "All around the world, wetlands are being lost or damaged more rapidly than any other ecosystem. In the last 100 years, the amount of inland wetland alone has halved – because of land reclamation, changes to agriculture, pollution, water diversions and other developments. Such losses are catastrophic for wildlife. Scientists blame them for pushing a third of all amphibians, 15 per cent of water birds, over 40 per cent of reptiles, 30 per cent of mammals and 6 per cent of fish species close to extinction."
Our Story Appeared In