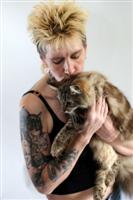 Jayne Jubb, 47, who shares her home with more than TWENTY animals, including racoons, a piranha, snake and a fox, has already had half of them drawn across her neck, arms and back.
A terminally ill woman is having all her beloved pets TATTOOED on her body so she can take them with her when she dies.
She is now hoping to get an iguana tattooed on her neck and still find space for her pet snake, dogs and cockatiels.