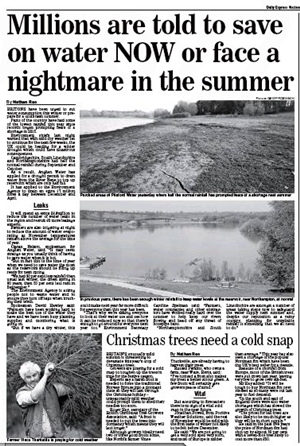 Homeowners in parts of Britain have been told to reduce their water consumption because of a WINTER drought.
East Anglia has experienced some of the lowest levels of rainfall since records began this year, heightening fears of a water shortage next summer.
The counties of Cambridgeshire, South Lincolnshire and Northamptonshire only had HALF the normal rainfall during September and October and with the mild weather continuing this month there are concerns the water reserves will reach a critical level next summer.
Anglian Water has now applied for a winter drought permit, so it can drain extra water from the River Nene to feed its reservoirs in Pitsford and Rutland Water, which are only half full. Farmers are also irrigating at night time to reduce the amount of water evaporating as the November weather is so warm.